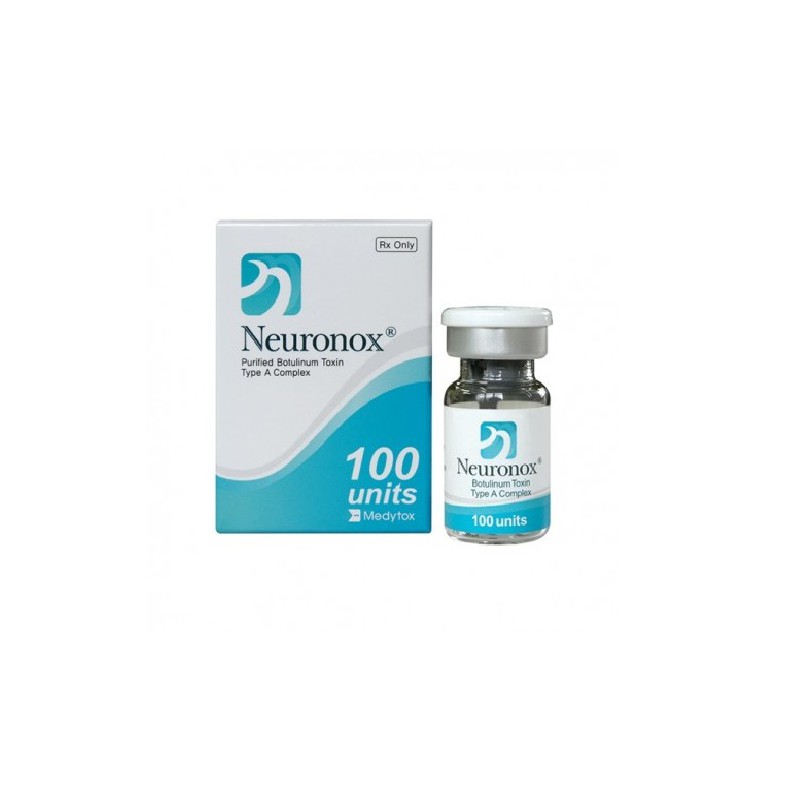  
3 Botulinum Neuronox 100iu
Discount: Sale of 3 botulax type A 100iu. Attention: When there is no botulinum NEUR0NOX, we will deliver B0TULAX, BEUTOX or other brand with the same quality, quantity And active principle.
Please note: The contents of the bottle may appear empty (depending on the brand we ship) as the amount of powder is almost imperceptible, this is normal! Just add the water for injections (saline water)
Safe products with ISO certifications
Fast shipping worldwide with DHL, EMS, Etc.
Return policy in the event of errors on our part
BUY NEURONOX 100IU ONLINE
We sell Neuronox Botulinum Toxin 100iu all over the world at affordable prices. Neuronox is a type A botulinum composed of the purified Clostridium botulinum toxin, produced by Medy-Tox which is a Korean company. A bottle of Neuronox 100iu contains a freeze-dried white powder to be diluted with water for injections that can be easily found in a pharmacy.
INGREDIENTS:
1 bottle of Neuronox contains 100iu of botulinum toxin (type A), 0.5 mg of human serum albumin and 0.9 mg of NaCl. Neuronox is a biogeneric Botox, it is a good alternative to Allergan USA Botox. The botulinum toxin of Neuronox can be used in neuromuscular transmission sites on the motor nerve endings, in the nerve endings to prevent the release of acetylcholine.
BUY NEURONOX 100IU ONLINE
When neuronox 100iu is injected intramuscularly at therapeutic doses, it produces a partial chemical denervation of the muscle which reduces muscle activity locally. Although botulinum toxin type A is widely used as anti-wrinkle, it can find a place in various applications such as in cases of hemifascial spasm, cervical dystonia and blepharospam. All customers who have ever used Neuronox are absolutely satisfied with Neuronox.
Dosage and Administration
1. Blepharospasm
For blepharospasm, it is injected using a 27-30 gauge sterile needle without an electromyographic guide. The recommended starting dose is 1.25 - 2.5 U (0.05 mL to 0.1 mL volume at each site) injected into the medial and lateral pre-tarsal oruli of the upper lid and into the orbicular pre-tarsal oruli side of the bottom cover. The benefits can be noticed after three days after the treatment. The cumulative dose of NEURONOX treatment over a 30 day period should not exceed 200 U.
2. Pediatric cerebral palsy
For pediatric cerebral palsy, NEURONOX is injected with a 26-30 gauge sterile needle into each of the medial and lateral heads of the gastrocnemius muscles. The total recommended dose is 4U / kg body weight for the gastrocnemius muscle in patients with hemiplegia. And in patients with diplegia, the recommended dose is 6U / kg of body weight divided between the two legs. The total dose administered should not exceed 200 U / patient at a time.
3. Glabellar wrinkles
NEURONOX is reconstituted to produce 200 U / 5.0 mL (4 U / 0.1 mL) with sterile non-conserved 0.9% saline solution. Using a 30 gauge needle, 20 U of NEURONOX are injected in two places on the corrugating muscle for each eye and one point on the procero muscle, for a total of 5 sites with 0.1 ml per site. In order to avoid the effect of drooping eyelids (ptosis), the botulinum should not be injected near the upper eyelids of the levator. The duration of NEURONOX for glabellar wrinkles is approximately 3-4 months.
4. Muscle spasticity
The dosage varies from individual to individual based on the size, number and position of the muscles involved, the severity of spasticity, the presence of local muscle weakness and the patient's response to the previous treatment. After 4-6 weeks, an improvement in muscle tone can be noted
In controlled clinical trials, the following doses are administered:
Biceps brachii 100-200U : up to 4 sites 
Flexor digitorum profundus 15-50U : 1-2 sites 
Flexor digitorum sublimis 15-50U : 1-2 sites 
Flexor carpi radialis 15-60U : 1-2 sites 
Flexor carpi ulnaris 10-50U : 1-2 sites