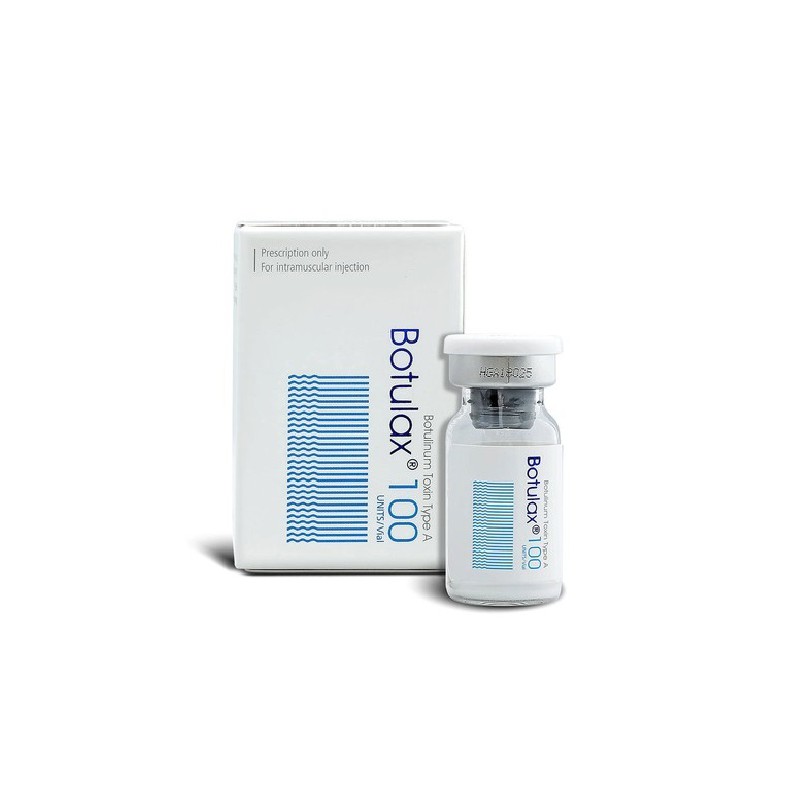  
Botulax 100iu
botulax type A 100iu
Please note: The contents of the bottle may appear empty (depending on the brand we ship) as the amount of powder is almost imperceptible, this is normal! Just add the water for injections (saline water)
Safe products with ISO certifications
Fast shipping worldwide with DHL, EMS, Etc.
Return policy in the event of errors on our part
Botulax 100iu Botulinum toxin type A
Botulax is produced in Korea by the Hugel Pharma company. Botulax is a safe, quality Type A botulinum that has been successfully compared with allergan Botox.
Botulax contains 100 units (U) of type A clostridium botulinum toxin, 0.5 milligrams of (human) albumin and 0.9 milligrams of sodium chloride. Botulax is currently approved in Thailand and South America, is also awaiting American FDA certification, but does not yet have CE certification. So if you are European you have to check your import laws, in any case we can ship all over the world. A botulax ampoule contains a white powder to be diluted and has a shelf life of 36 months from the date of manufacture. We recommend keeping the botulinum in the fridge in the refrigerator, without freezing it. We are wholesale botox suppliers and can also ship small quantities of this product.
Botulax Features:
Purified type A botulinum toxin
Albumin: human serum albumin
KC NaCl degree: bulking agent and maintenance of isotonicity during the formulation
GMP approved by KFDA
Excellent effect - appreciable result
Simple procedure - Only a few small injections
Short treatment - it takes about 10 minutes
Quick effect - In 2 or 3 days you can see the remarkable effect
The efficacy and safety of type A botulic toxin have been demonstrated and verified as comparable to botox in clinical trials. Botulic toxin type A has been sold in over 25 countries. In addition to being used for cosmetic purposes, Botulax can be used for the treatment of benign essential blepharspasm in adult patients. For the treatment of equine foot deformity for patients older than 2 years. And as many know, to iron serious glabellar wrinkles. The botulinum botulax ampoules can be stored in a refrigerator for 24 months.
Dosages
For blepharospasm, a dose of 1.25 - 2.5 U (volume from 0.05 mL to 0.1 mL at each site) is recommended, in patients with diplegia the dose of 6U / kg is recommended. The maximum dose administered should not exceed 200 U / patient at a time. For Glabellar wrinkles 20U are often injected but the dosages vary according to the client's presentation.
Effects
In blepharospasm, the effects should appear in 3 days and peak after 3 weeks. For pediatric cerebral palsy applications, improvements can be noted within 4 weeks of the injection. The effects vary for glabellar wrinkles as the dosages are not always the same.
Contraindications of botulinum
Contraindications may include fatigue, generalized muscle weakness, diplopia, ptosis, dysphagia, dysphonia, dysarthria, urinary incontinence and breathing difficulties.