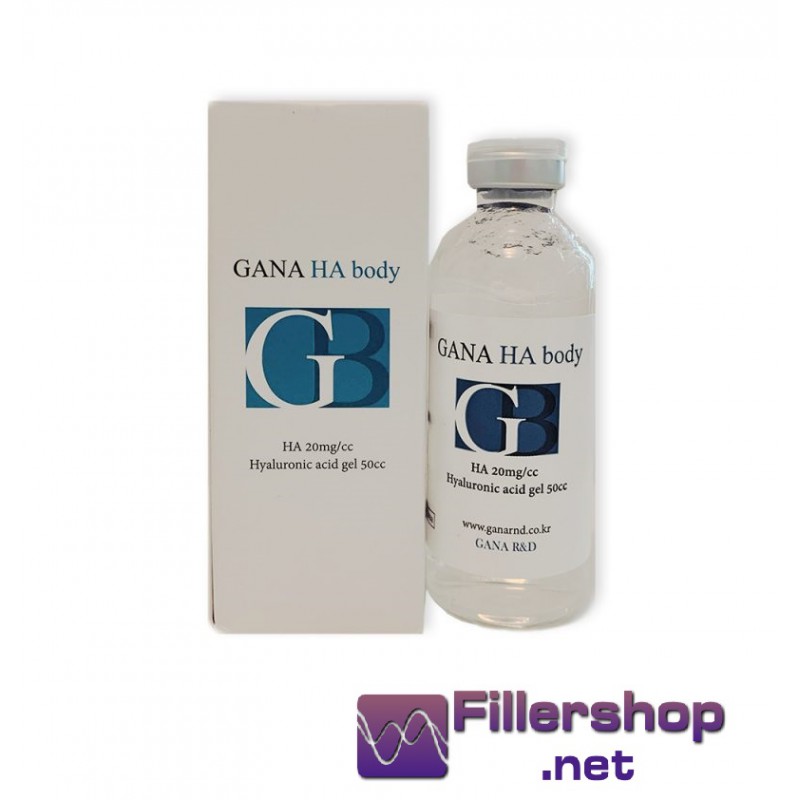  
Gana HA Body
HA Body Filler (50ml Prefilled vial)
Cross Linked Hayluronic Acid 20mg/CC
Cross Linking Ratio 10%
Duration: 24 months
Safe products with ISO certifications
Fast shipping worldwide with DHL, EMS, Etc.
Return policy in the event of errors on our part
Gana HA Body is a hyaluronic acid-based filler for injection, identical to that found in the human body. It is completely biodegradable, that is, it dissolves gradually, disintegrating in water and carbon dioxide. This hyaluronic acid based product is an advanced method for body remodeling, breast and buttock augmentation. It is characterized by a much longer effect, better and more natural results for the patient. Gana HA Body has a much higher cross-linking factor than other products, this body gel filler has an incredible 10% cross-linking ration, compared to a normal filler that can only reach 6% as in all most other products. In addition, it is a 100% cross-linked gel, while other solutions for injection are mixed in non-cross-linked HA, in order to use it for lubrication and facilitate injection under the skin. Gana HA Body Filler takes the best of both these methods, having the durability of the monophasic fillers and the flexibility and ease of shaping the biphasic hyaluronic acid gel. This filler gives doctors total control that allows you to effectively increase the body, improve the shape and size of the breast or shape the patients' buttocks. With the right particle size and viscoelasticity, the product is guaranteed to remain in position once injected under the skin, a completely natural aspect. Another important advantage of this product is the excellent durability and resistance of the Gana HA body filler to enzymes. The injected hyalurone gel will last up to 24 months, double that of other brands of normal body fillers.