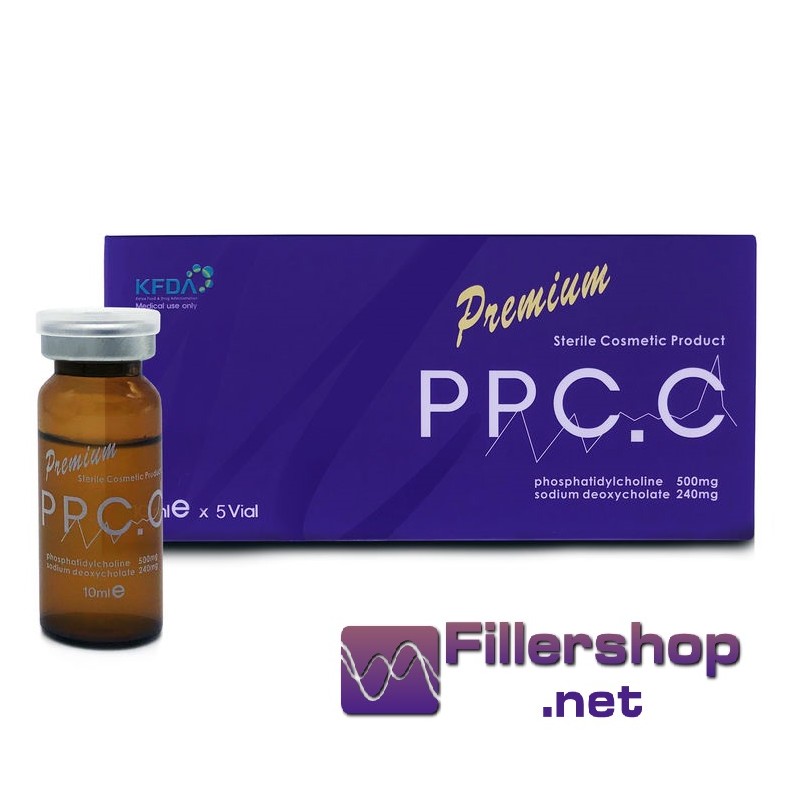  
Premium PPC-C
1 pcs (10ml), 1 box (5*10ml)
Ingredients: Water, Phosphatidylcholine, Sodium deoxycholate, Benzyl alchol, Sodium chlorid, Sodium hydroxide,
Riboflavin, DL-aplha-tocopherol acetate, Ethanol, Methylparaben, Ethylparaben.
240mg of Sodium Deoxycholate, Accelerate the Decomposition of Fat
Absorption time is short, the effect is doubled
Expedite Cell Regeneration, and make skin smooth and elastic
Quick Treatment and Good Results of Fat Reduction are Secured
Safe products with ISO certifications
Fast shipping worldwide with DHL, EMS, Etc.
Return policy in the event of errors on our part
Premium PPC-C is a product that helps burn fat in our body and also helps ud a local reduction of subcutaneous fat. The product in a nutshell is an improved version of the PPC-C lipolytic solution. In addition to phosphatidylcholine (PC), Premium PPC-C also contains deoxycholate (DC), the latter improves hydrophilicity by enhancing its lipolytic effect. Although PC has direct lipolytic activity, DC is able to disrupt adipocyte membranes. The action of the two agents results in the conversion of subcutaneous fat into a liquid emulsion, which is then naturally expelled from the body. Due to the synergistic action of PC and DC, Premium PPC-C injections are preferred and also most tolerated by clients due to the less pain they cause during the procedure and the fewer side effects after it. Premium PPC-C product features a fat dissolving solution for local fat removal and face and body remodeling. The product contains two active ingredients for the destruction of fat cells: phosphatidylcholine and deoxycholate, which act together. Furthermore, using hyaluronic acid, it tries to break it down, and is able to decrease the swollen cells. Premium PPC-C is a brand new treatment method to dissolve fat accumulation with lecithin and it quickly dissolves the enzyme and at the same time flushes fat from the body and enhances it.