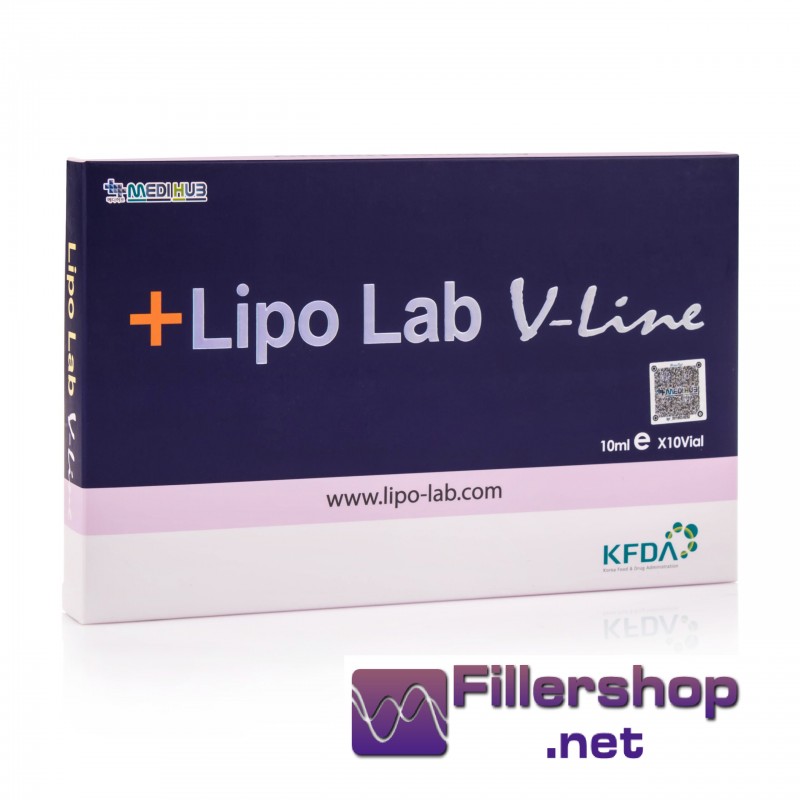  
Lipo Lab V-Line
Packing: 10ml x 5 vial
Space between injection points: 1 cm
Maximum dose: 2cc (for a full facial treatment)
Depth of injection: Deeper dermis (5 mm)
Treatment course: three sessions
Interval between procedures: 10–21 days
High purity PPC (German origin: purity 99.8%)
Sodium Deoxycholate (Japanese origin: purity 98%)
Particles of 50-70 nanomicrons, a size smaller than a cell.
Special Sterile Technology(odorless, non-pigmental, sterile technology)
Safe products with ISO certifications
Fast shipping worldwide with DHL, EMS, Etc.
Return policy in the event of errors on our part
Lipo Lab V-Line is a dissolving product that helps and offers better and less painful results than liposuction. Unlike other lipolytic injections, this one completely destroys fat deposits instead of reducing them. Additionally, it has been patented to treat facial areas such as the chin, jaw and cheeks. Above all, this dissolving solution manages to have a fast but lasting facial remodeling and truly slimming effects. Lipo Lab V-Line accelerates lymph circulation and removes excess fat from the face, and also reduces swelling in areas of the face, this will allow you to see the regenerative effect of the skin. In addition, it can also be used not only for a full face, but also for a lifting effect so that you look more youthful looking. The Lipo Lab V-Line line removes fat, giving the effect of a lifting to the cheeks and double chin, favoring cellular regeneration of the dermis and leaving the skin smooth and elastic. In addition to its fat-burning and dissolving properties, this product moisturizes the dermis and encourages it to produce more collagen and improve the appearance of the skin. Over time, this will have a refreshing and anti-aging effect on the facial skin making it fresh and youthful. Furthermore, the treatment will reduce skin sagging and considerably improve skin elasticity. When performing this type of treatment, however, there must be at least a one week interval between therapies. The main ingredients of the Lipo Lab V-Line include vitamins, amino acids and plant extracts.All these ingredients have in common the ability to dissolve all fats. In addition, this product uses the highest quality raw materials produced in Japan and Germany. As a result, it has a high level of purity and a healthy formula that conspicuously helps shed excess fat and make the skin fresh and youthful.