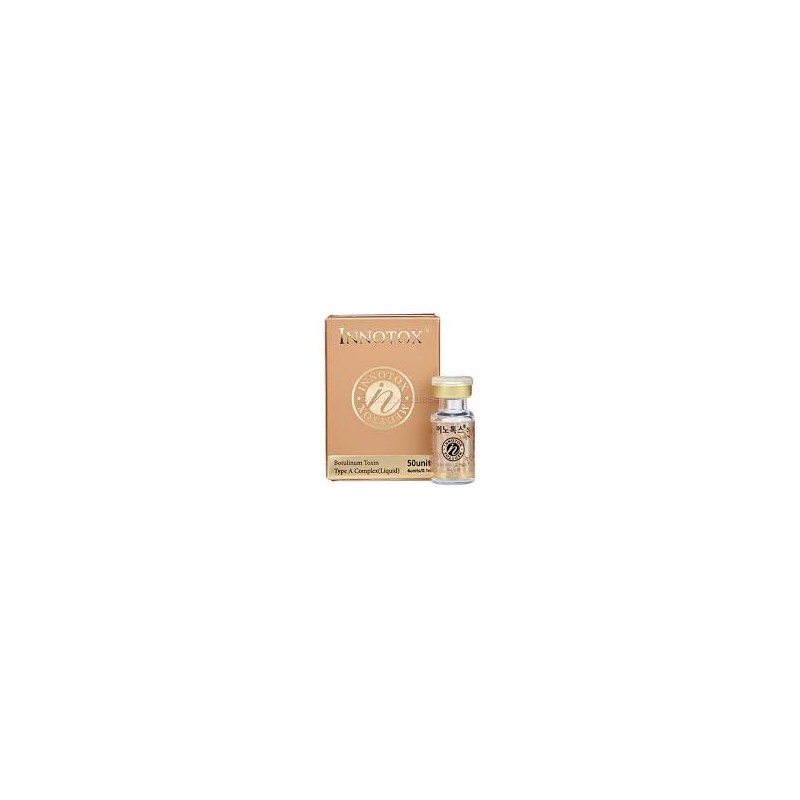  
Innotox 50IU
Liquid Botulinum ready to use 4u / 0,1 ml; no need to add water to inject the solution. Active principle: Clostridium botulinum type A.
This is a colourless solution placed in a single-use 50U vial, also colourless, excellent for clearly seeing if the product is altered before making the injection.
Store at a temperature between 2 and 8 C° degrees.
Expiry date: 36 months after the date of manufacture.
Safe products with ISO certifications
Fast shipping worldwide with DHL, EMS, Etc.
Return policy in the event of errors on our part
Compared to the various brands of Botox type A on the market, Innotox 50U when sealed is a product that does not easily alter with temperature variations, therefore it can also be kept at room temperature without undergoing any alteration, however, it is always recommended to keep the botulinum in the refrigerator. It is a type A botulinum toxin produced by Medytox in Korea and has received KFDA approval in South Korea since 2013, already pre-mixed in a solution. This feature has been greatly appreciated as, by doing so, any human errors that may occur when diluting the botulinum toxin with saline solution are avoided.
Obviously, if the product has been used, it must absolutely be kept in the refrigerator and must be used within a few days, otherwise, the risk is to permanently lose its characteristics.
Another innovation of Innotox is that of not containing any substance of animal origin: during the production process it was decided to eliminate animal proteins at the origin in order to avoid risks, even the albumin of human serum is excluded in order to avoid that contamination and associations with diseases originating from human blood arise. Worthy substitutes such as methionine and polysorbate are used as stabilizers.
The effectiveness of Innotox compared to Botox, as well as its safety, has been the subject of study by experts so as to arrive at a comparison with a 1: 1 ratio. The results of both were compared in treating the glabellar lines of 168 patients between 20 and 65 years, with moderate and severe wrinkles, to evaluate whether the substance could be addictive or there were side effects. 20U was then injected and the researchers noted that the rate of improvement was no difference between the two groups and in no case did any problems or side effects arise.
Although the most famous use of Botox is the aesthetic one, this toxin is also used for a specific therapy against muscle spasms, such as blepharospasm, or is administered to patients with clubfoot, or in the case of pediatric cerebral palsy in patients aged two years and up.
In addition to this use, Botox is also used to stem the phenomenon of excessive sweating of the hands and armpits, called hyperhidrosis: in the case of axillary sweating, in Italy the use of this toxin is approved only for primary axillary hyperhidrosis particularly resistant to medical treatments for topical use. The doctor will spread a little starch on the part to locate the exact position of the sweat glands, after which he will inject 50 IU per armpit by means of 12 or 15 injections by spaced them by one centimetre. For patients particularly sensitive to pain, before and during treatment the professional will anesthetise the part with an anaesthetic ointment. The intervention lasts up to 6 months, then you have to repeat the cycle.
However, it is recommended not to abuse this substance and to consult with a specialized doctor, as well as not trying to inject it yourself. Only a doctor specializing in aesthetic medicine will be able to assess the general situation of your face and decide how much botox to inject, also due to the fact that it is a toxin that, if used improperly, could poison the body and lead to paralysis and death.
For these unusual characteristics of botox, the manufacturer of the Botox brand, Allergan, has entered into an agreement consisting of an exclusive license in order to market this beauty treatment worldwide, except in Japan and Korea, making Innotox available in vials with the capacity of 25U and 50U.