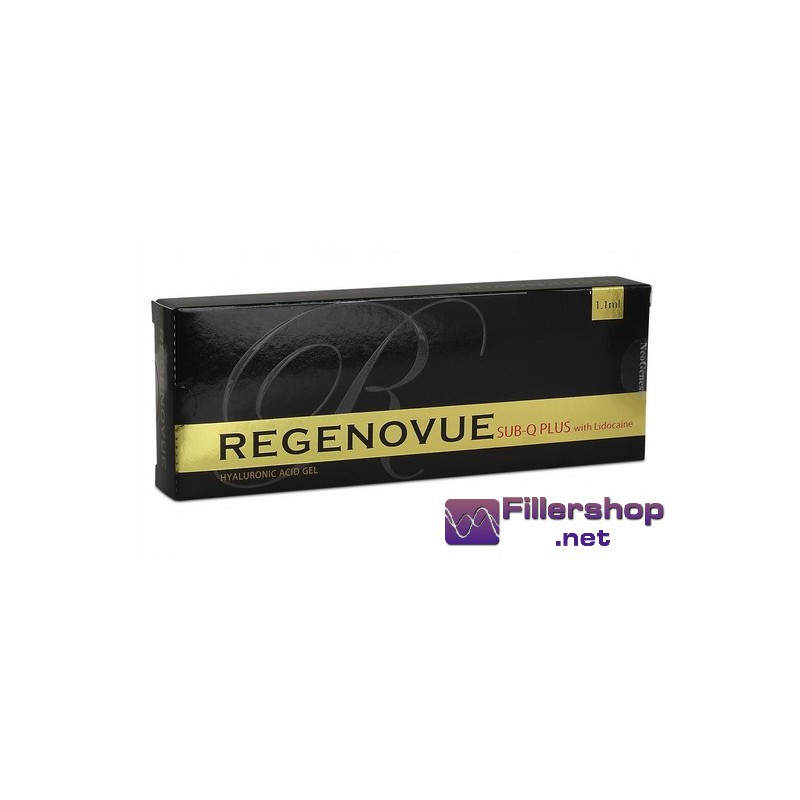  
Regenovue Sub Q Plus - 1ml syringe
Concentration: HA 24mg/ml
Needle Gauge: 27G
Duration: 8-12 months
Storage: 2-25˚C
Shelf Life: 24 months
Safe products with ISO certifications
Fast shipping worldwide with DHL, EMS, Etc.
Return policy in the event of errors on our part
Regenovue Sub-Q Plus filler is an advanced skin filler, which uses hyaluronic acid gel to shape facial features and counteract wrinkles. It helps to increase different parts of the face including cheekbones, chin and nose, using this thick and stable HA filler gel. This product contains 0.1 ml of lidocaine to remove any pain when giving an injection. The results are long-lasting and natural in the face line and increase in volume thanks to the Regenovue Sub-Q Plus filler. This filler takes completely biocompatible hyaluronic acid found in nature, and offers a simple alternative to the most risky and expensive cosmetic surgery. Skin fillers are a more flexible form of anti-aging treatment, do not require excessive time and are also more convenient. This filler is thicker than average, with larger particle size. It can be used to increase the jaw and improve the shape of the chin. The filler can be used for rhinoplasty, either alone or in combination with surgery. Furthermore, when it comes to dealing with deep to severe skin folds, very pronounced lines on the forehead, serious lines of puppets, the Regenovue Sub-Q Plus filler offers a solution by trying to eliminate them. The Regenouve Sub Q Plus filler filler was developed by Neogenesis through a new production technology that gave this filler a high viscosity, 100% HA compatible. Thanks to its compact and regular structure, compared to other products, Regenovue offers a natural volume effect with a uniform injection pressure, effectively maintaining the volume over time, providing a duration of about 12 months. The first quality biodegradable hyaluronic acid and the bacterial extract of natural substance (endotoxin <0.0015 IU / mg) keep the structure of the skin stable, for maximum elasticity and a much more natural volume. The presence of highly crosslinked BDDE and the multiphase action contribute to the duration of the effect that varies from 12 to 18 months, while the lidocaine in the formula makes the procedure painless. Lidocaine Regenovue Sub Q Plus is produced with a special CHA Meditech technology and does not contain traces of animal products. Unlike plastic surgery, the anti-aging procedures with the Regenovue Sub Q Plus filler are very fast, an estimated time of only 30 minutes. The results will last depending on the patient's metabolism, but it is better to consult the doctor in which period an additional injection of hyaluronic acid filler is needed to maintain the natural results achieved. In terms of safety, the product, since based on purified HA of non-animal origin, is completely biocompatible with the dermis.