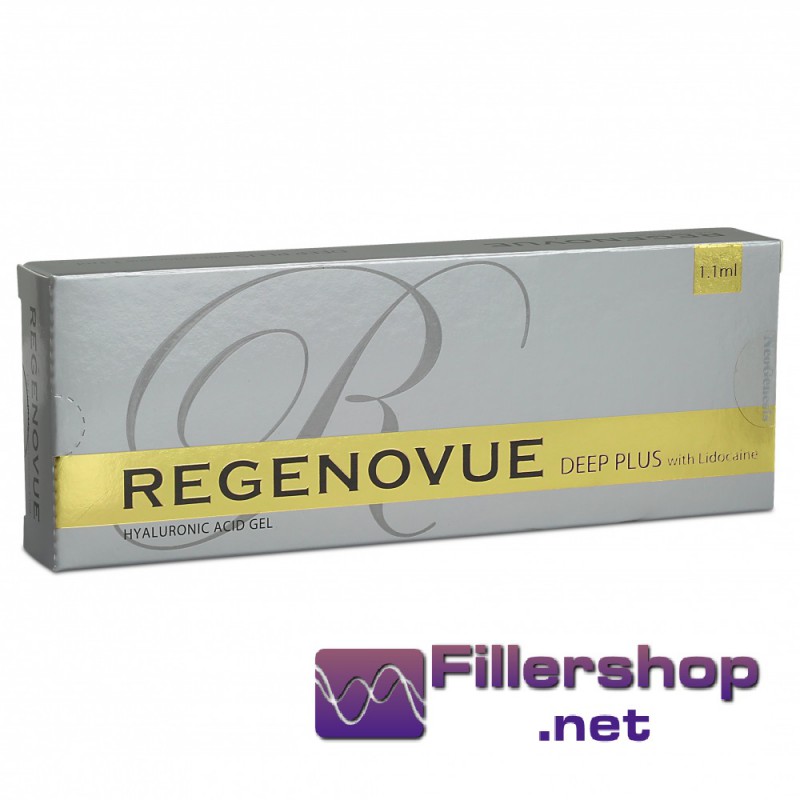  
Regenovue Deep Plus - 1ml syringe
Concentration: HA 24mg/ml
Needle Gauge: 27G
Duration: 8-12 months
Storage: 2-25˚C
Shelf Life: 24 months
Safe products with ISO certifications
Fast shipping worldwide with DHL, EMS, Etc.
Return policy in the event of errors on our part
The Regenovue Deep Plus filler is a filler that is ideal for shaping the lips and increasing their volume and shape. HA filler is also soft enough to be appropriate for removing moderate and medium wrinkles and creases, as well as glabellar and marionette lines. Regenovue Deep Plus is really similar to the basic Regenovue Deep product, in their properties and applications, both products are almost identical. The filler for lip augmentation and the removal of moderate wrinkles and skin folds. Both can be very useful for filling the glabellar lines between the eyebrows or for hiding puppet lines on the sides of the mouth. Of course the main target, as in most hyaluronic acid fillers, bears the name "Deep" are the lips. With excellent flowability and a sufficiently small particle size, the Regenovue Deep Plus filler will significantly improve the patient's lips for a long period of time. More volume, better lip proportions and natural looking results without displacement of the filler after the injection. The only real difference between Deep Plus and the basic Regenovue Deep filler is the lidocaine contained in the first one. A 0.1 ml of lidocaine guarantees more relief and less pain for the patient. When injected, the gel will provide immediate and natural results. Since it is a non-permanent solution, a subsequent injection with filler is necessary to maintain the shape and volume of the lips or to fill in wrinkles. Normally, a single injection of Regenovue Deep Plus will last for 12 to 18 months. This filler filler has been designed to temporarily correct deep wrinkles, glabellar and perioral lines, the removal of severe nasolabial folds, improve the appearance of the nose, provide better defined lips to shape and improve the different areas of the face including chin, cheekbones and the forehead. As previously mentioned, the Regenovue Deep Plus filler contains lidocaine which plays the role of local anesthetic and makes the injection treatment painless for the patient. In terms of safety, the product, since based on purified HA of non-animal origin, is completely biocompatible with the dermis.