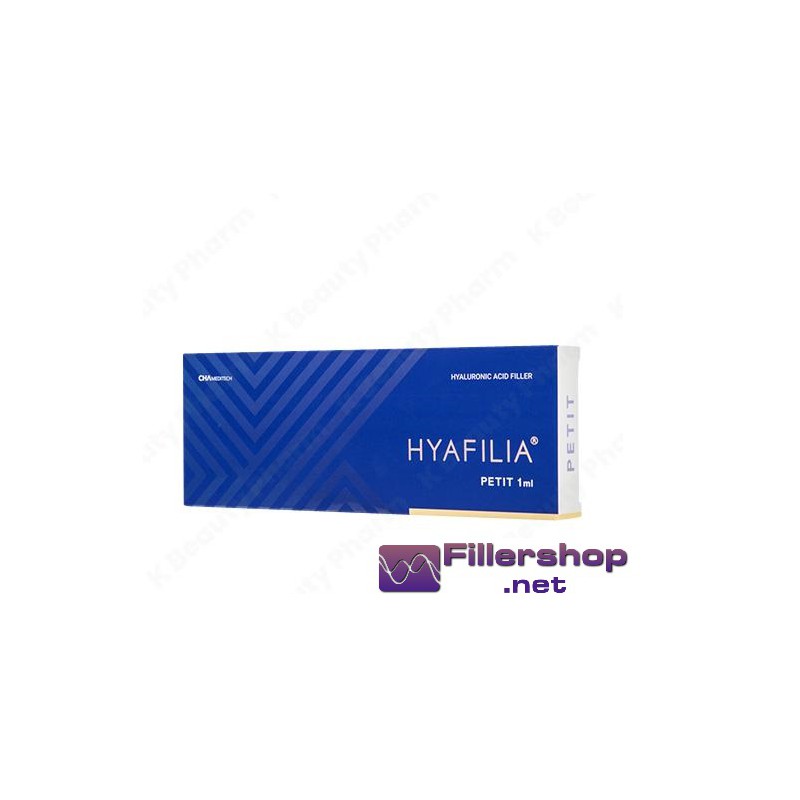  
Hyafilia Petit 1ml syringe
Composition: HA 20 mg/ml (without lidocaine)
Duration: 6-9 months
Shelf life: 36 months
Storage: 2-25°
Safe products with ISO certifications
Fast shipping worldwide with DHL, EMS, Etc.
Return policy in the event of errors on our part
The filler Hyafilia Petit is a top quality skin filler, based on purified cross-linked hyaluronic acid, with a high concentration of 20 mg / ml. This HA filler is the perfect solution for skin rejuvenation and quick and effective removal of wrinkles and surface creases from the skin. The Hyafilia Petit filler has excellent gel fluidity and provides many more natural results, compared to other hyaluronic acid fillers that are currently in circulation. This filler is a new generation cosmetic product, it has a special biphasic structure. This means that part of it is stabilized and the rest is not stabilized (ratio 85:15 respectively). In this way, this product offers a perfect balance between volume and filling of wrinkles and wrinkles on the face, neck, décolleté and also on the back of the hands. The filler can be used to remove crow's feet, delicate puppet lines and is also very useful for the lips. This injectable gel is also composed of HA microspheres of varying sizes, which is why its natural-looking anti-wrinkle effects are many times more durable than those provided by monophasic filler gels. In this case, patients can enjoy their rejuvenated appearance and wrinkle elimination for up to 1 year with just one injection session. This is an impressive improvement given that most other competitive products have effects that barely last for 4-6 months. Prolonged longevity of treatment results also means that patients will not be forced to undergo frequent touch-up injection sessions to keep their appearance younger and fresher. Almost no other filler filler currently on the market can boast an average particle size of only 200 μm. This results in an excellent fluidity of the gel, which allows it to fill wrinkles even very delicate wrinkles in a completely natural way. Since it is a BDDE cross-linked hyaluronic acid, which is used, it is even more resistant to the body's metabolism and its enzymes.