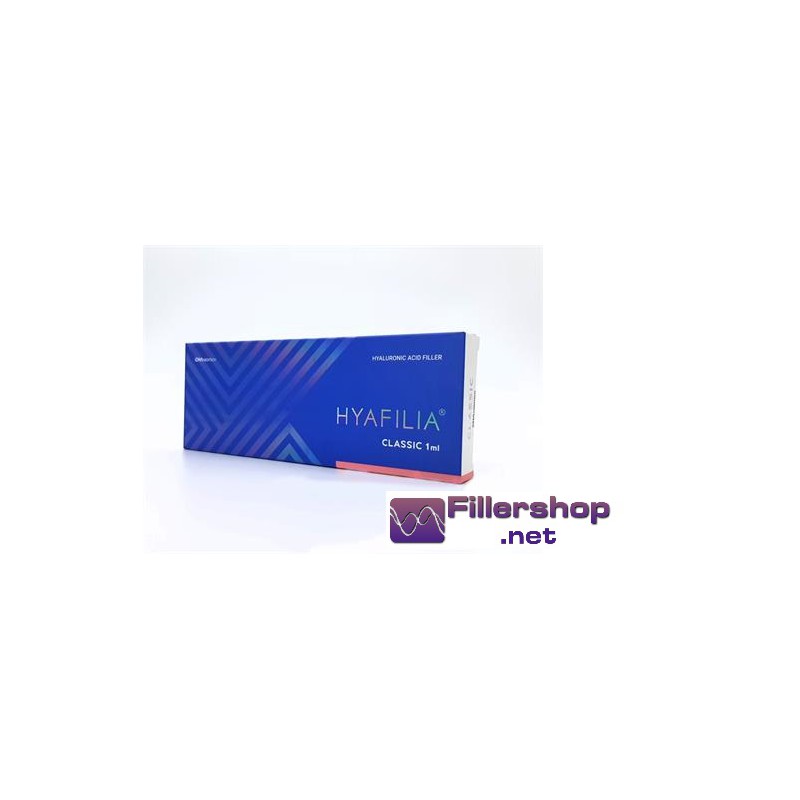  
Hyafilia Classic 1ml syringe
Composition: HA 20 mg / ml (without lidocaine)
Duration: 6-9 months
Shelf life: 36 months
Storage: 2-25°
Safe products with ISO certifications
Fast shipping worldwide with DHL, EMS, Etc.
Return policy in the event of errors on our part
Hyafilia Classic is a sixth generation skin filler, it is among the most durable skin rejuvenation products based on cross-linked hyaluronic acid and its function is to temporarily reduce the appearance of wrinkles and medium creases, being part of a range revolutionary two-phase anti-wrinkle filler. HyaFilia Classic undoubtedly ranks among the lowest risk skin fillers on the market. It has been thoroughly and extensively tested and has also proven to be very safe as it is fully and biologically compatible and non-toxic. For patients, this means practically zero harmful side effects. Thanks to its extraordinary anti-wrinkle properties and its healthy nature, this product is approved by the KFDA and has all the necessary CE marks. The risk of overfilling has also been reduced to a minimum. In its normal state, HA is dissolved by the body's enzymes fairly quickly.However, in this product, it has been combined with BDDE to obtain a stable crosslinked structure that is much more resistant to the metabolism of the human body than similar products, Hyafilia dermal fillers last substantially longer once injected into the dermis. Since it is an innovative dermal filler that safely smoothes medium wrinkles (nasolabial folds, puppet lines, wrinkles around the mouth and eyes, etc.), it must be injected directly into the middle dermis. Thanks to the exceptional moisturizing properties of its HA filler gel, this product also has the ability to hydrate the skin at a deep level and make your face look fresher and more youthful.