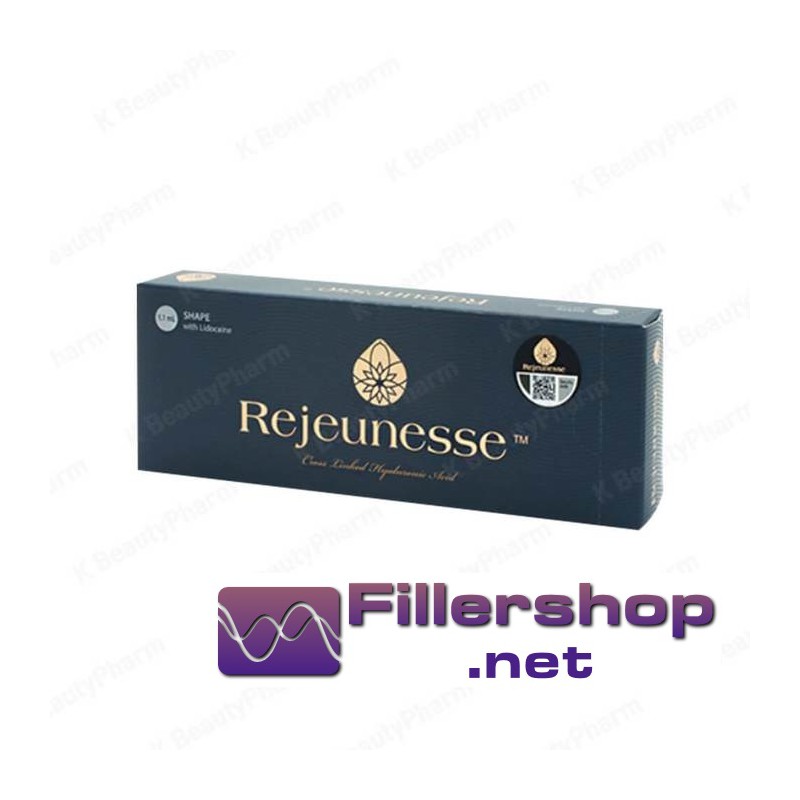  
Rejeunesse Shape 1.1ml syringe
Concentration of Hyaluronic Acid: 24mg/ml
Concentration of lidocaine: 3mg/ml
Recommended needle size (included in box): 26G
Safe products with ISO certifications
Fast shipping worldwide with DHL, EMS, Etc.
Return policy in the event of errors on our part
Rejeunesse Shape filler is a thick and resistant filler gel for increasing areas of the face such as the nose, chin or jaw. High viscoelasticity, BDDE residue reduced to a minimum make Rejeunesse Shape filler one of the best HA fillers that can stand out from the crowd. Produced with a unique HCCL technology, carefully tested and properly sterilized, this fantastic skin rejuvenation product offers natural results when used for cheek and chin augmentation and face contour. Its duration is approximately 12-18 months. This makes Rejeunesse Shape one of the most durable and functional products, and to achieve this incredible longevity of its effects, it is entirely made of cross-linked hyaluronic acid through a technology called High Concentration of Cross-Linking which increases the viscoelasticity of the HA gel to prevent migration once it is injected into the skin.To ensure a very pronounced effect, the injectable gel has a high concentration of HA of 24 mg / ml. The main advantage of HA products is their biocompatibility. Fillers in particular, if they are like Rejeunesse Shape gel, will not be rejected by the body and will not have negative side effects. The enzymes of the patient's body will cause them to dissolve slowly over time. Therefore, this form of beauty enhancement is not permanent, which means it is also more flexible. Only experienced doctors are allowed to inject dermal fillers and only on naturally adult patients. Any patient over the age of 18 can take full advantage of the shape-shaping properties of Rejeunesse, while patients over the age of 45 can also face deep folds and severe wrinkles. The procedure will last for about 30 minutes.